SVBROSA LVTEA
Catalogue orf the "SVBROSA LVTEA" exposition in v Hradec Králové, Museum of Moder Art in Hradec Králové, Czech Republic, 2003.
6 Pages
5 ill., folding book, 389 x 228 mm
czech
english
The Editors: Tomáš Vlček, Tomáš Rybička
Texts: Josef Mánes, Gaston Bachelard, T. S. Eliot a Miloš Šejn
Editor: Museum of Moder Art in Hradec Králové, November 2003
Layout: Miloš Šejn, Font Preissig Antikva
Number of copies 400
Printed by H.R.G. Litomyšl
ISBN 80-85025-43-4
I desire for a long time –
to paint wild roses
(which are yellow and red).
I went through every garden and I found nothing!!!
Josef Mánes, 1871
In the imagination of plant flames from all flowers only Rosa is the natural fireplace of pictures.
Rosa is the essence of imagination, immediately.
And the fire and the rose are one...
T. S. Eliot, Quatre Quatuors
Gaston Bachelard, La flamme d'une chandelle, 1961
Subrosa Lutea exhibition is about nature of human imagination, it is about its anguishes and feverish dreams which accompany it in the art imagination. An inspiration for the concept was Joseph Manes's humane destiny, expressed in his drawings as Dream of Artist, by feminine transformations of nature essences and visions of burning roses. The exhibition is also a verification of possibilities of the direct touch to the work of nineteenth Century artist and to messages of his themes, which exceeded the period of possibilities of visual art language. Today we have a different limitation as the crisis of representing, multimedia decomposition and unique reality of an immediate touch. All these photography, installations, performance recordings and relicts of processes are responses for this and the result of this practice. The colour of this specific site project is fire yellow, the colour of madman, visionaries and saints. The Rosa theme is also connected to symbolism of the Holy Virgin, the fire theme to the ability to see things.
Extract from text by Miloš Šejn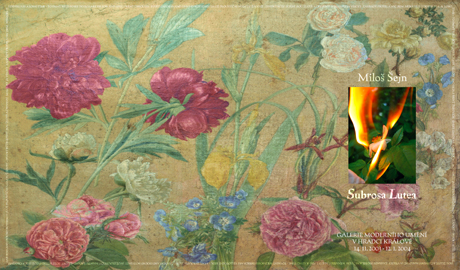 Catalogue Svbrosa Lvtea.pdf

T. Vlcek_Svbrosa Lvtea.pdf