Being Landscape
Beginning essay by Ladislav Kesner
Published by Arbor vitae
ISBN: 978-80-87164-31-0, EAN: 9788087164310
Size: 144 pages, 26x23cm, czech and english, bounded
First edition: 2010
Order this book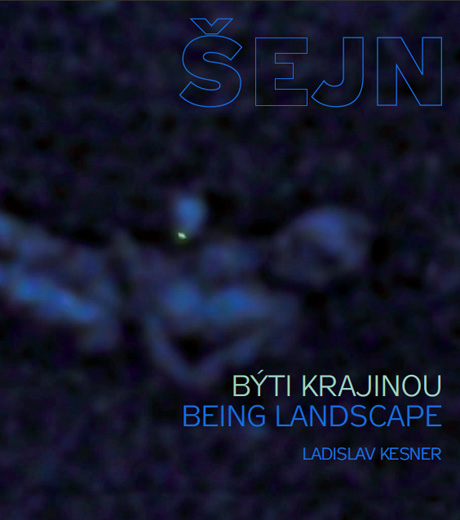 Revealing a monumental exhibition Sejns extensive conceptual work summarized by documentation in photographs, video and film forty years of the artists work in the field of performance and body actions in natural terrain. From the idea of a "return to nature" to the body action, expressing deep personal relationship to the ground, it allowed to watch the fascinating records shaping contemporary visual language of new media. The artists work combines contemporary natural science knowledge with the emotional and physical experience of the landscape and the immediate creativity. Visual expression as a bolt of rationality and sensitivity of an art message. Fascinating speech touching, physical sharing and compassion at interaction with elemental energy of matter and earth elements.

Věra Jirousová
27.12.2010
Six of the most remarkable exhibitions of 2010 / Journal Referendum

In his works, Miloš Šejn (1947) captures and expresses the experiences accompanying his communication with the landscape and at the same time affects something of natural events. This publication focuses, through nearly two hundred color reproductions, on actions and works in which the artists body itself acts as an exclusive expressive and visual medium, and which is captured by an optical image and sound recording in a photograph, video or film. Since the late 1960s, Miloš Šejn has consciously sought to transform his feelings from the landscape into a form that could be called an art form. The book focuses on a brief selection of his early body activity - walking, wandering, body contact, rituals, or meditation. The environment of caves and labyrinths inspired him to a series of unique fire drawings. In the mid-1990s, Šejns work influenced Body Weathers body technique, which was developed by the famous Japanese dancer Min Tanaka. Video performance and concurrently emerging color photographs from the last fifteen years represent a new emphasis in Šejns work on transforming ephemeral body sculptures into permanent sound-visual recordings of the body - aesthetic artefacts. Ladislav Kesner, Associate Professor of Masaryk University in Brno, who deals with, among other things, the theory of art, especially the issues of perception and vision, collaborated on the concept of this first artists monograph and wrote an introductory text study.

Kosmas

MILOŠ ŠEJN born in 1947 in Jablonec nad Nisou. He works in the fields of visual art, performance and study of visual perception, and conducts workshops, such as Bohemiae Rosa. at present he teaches mixed media and the relationship of nature and art as intrinsic needs of the mind at the academy of Fine arts in Prague, and focuses on immediate creative possibilities, based upon the relationships between historical humanized landscapes and nature as a whole.
In his work, which takes the form of touch paintings, processual scrolls, books, as well as of body and land art, performance, video art and poetry, he captures and expresses his experience from communicating with nature and with the landscape, at the same time it captures aspects of nature and natural processes. The book concentrates events and works in which the artist's own body is used as the exclusive medium of expression and as a visual medium, and which can be preserved only in a video or audio form – on photographs, video or film.
Šejns work is rooted in an ingrained interest in nature that has demonstrated itself since his early childhood. at the beginning of the 1960s, when he was wandering in nature, he took photographs, drew, collected and labelled his observations of nature. The fundamental quality of Šejns work is the way he relates to nature: the fusion and permeation of the objective, cerebral, observational approach to the world of nature with the subjective, intensely physical and experiential. His artistic creation would have never acquired its uniqueness and depth if it had not been founded in the lifelong systemic observation and learning of nature and his deep knowledge of the processes that take place there.
Since the late 1960s Miloš Šejn has been consciously trying to transform his impressions of nature into a form that could be described as art. The first part of the book recapitulates – by way of an edited capsule of his early body art – the artist's walking, meandering, body contacts, rituals and meditations which often occurred in caves and gorges, as a reaction to the space, morphology and the perceived forces of the site. The environment of caves and rock labyrinths inspired Šejn to create a series of unique fire drawings. The photographs capture the artist's exploration of the cave using the medium of light – a lit torch –, which he carried through the underground labyrinth.
In mid-1990s, Šejns work was significantly influenced by his encounter with the Body Weather method, developed by the famous japanese dancer Min Tanaka – in part as a reaction to the techniques of the butoh dance. Video performances and the simultaneously taken colour photographs from the last fifteen years represent Šejns newly found emphasis on the transformation of transient sculptures into permanent audio and video recordings of the body – aesthetic artefacts. They are not just a record of communication of the body/mind with nature and the landscape, but also a continual validation of ways how to translate such fleeting encounters into a permanent, aesthetically consequential art form.
The recordings of the author's body art open new vistas of the moments of touching, blending and permeation of the body and the landscape. The most recent work shows this tendency along two lines: some photographs depict Šejns body sculptures set in the bezel of a broader landscape; others, on the other hand, are images fixing the moments of micro-integration of the body and the landscape. The ephemeral, seemingly trivial moments the existence of which one hardly realises in the flow of various doing, but which are the fundament of Šejns touching and interfusing of the body with the earth, water and air.

Ladislav Kesner